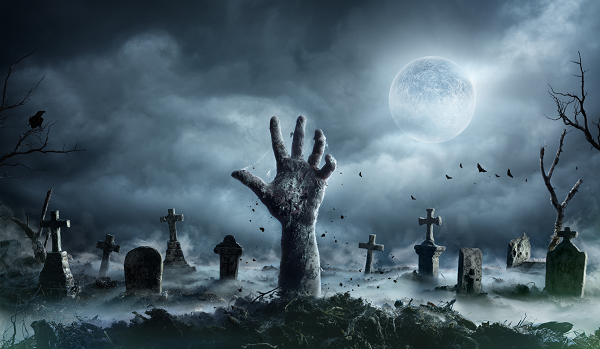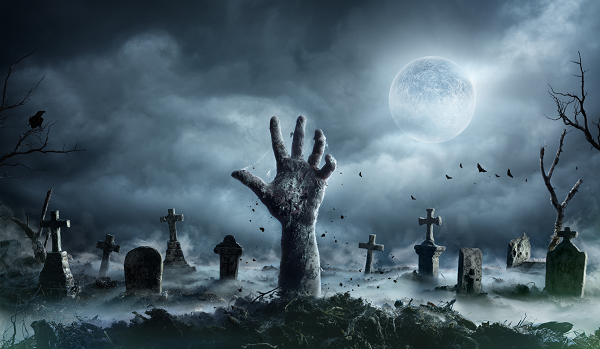 You're a Zombie! But you won't be forever.
Our culture (or at least a subset of our culture) is obsessed with zombies. This point is easy to prove when you look at the list of movies, TV shows, and books about zombies that have come out in the past two decades: World War Z, The Walking Dead, iZombie, Zombiland, I am Legend, etc. This is just a short selection of the Zombie entertainment available! Considering our culture's obsession with zombies, I thought I would use zombies as a metaphor for different states of a human life: your life before Christ, your life with Christ, and your life at the resurrection.
First, we have your life before Christ. Without Christ your life is like that of a zombie. Think of a zombie in The Walking Dead. In The Walking Dead, the zombies are alive in a sense. But they are only alive because a virus has reanimated their corpse. These virus infected beings have no real will or consciousness of their own. They are driven only by an instinct to kill and consume. They are an object worthy of contempt and disgust and the best thing to do with these zombies is to put a bullet in their head before they hurt anyone. This is similar to our state of existence before coming to faith in Christ. The apostle Paul says in Ephesians chapter two that before Christ people are dead in their transgressions and sins. They are Zombies! The walking dead! their only desire is to "gratify the cravings of their flesh" (Ephesians 2:3). And in this state people are "by nature deserving of wrath" (Ephesians 2:3). Is there any hope! Yes.
Despite our wretched zombie state God loved us. Like Dr. Robert Neville (Will Smith) in I am Legend, he worked doggedly for a cure. And a cure was created by Jesus the son of God. This cure is delivered to us by the Holy Spirit using the syringe of the Means of Grace, God's word and Sacrament. Once we have been given this cure we are made alive! God says this in Ephesians 2, "But because of his great love for us, God, who is rich in mercy, made us alive with Christ even when we were dead in transgressions – it is by grace you have been saved."
This brings us to our second state of human existence, being alive in Christ. By giving us faith God has made us alive. For this state of existence think of the zombie "R" in the movie Warm Bodies. R is a zombie who begins to regain his humanity. He starts to like and desire good things like love, beauty, and music. He fights against his zombie nature to become more and more human. This is what our life in Christ on this earth is like. Christ has made us alive and out of thankfulness for that gift we desire to live a life according to his word. We desire good and godly things. However, we are still plagued by what we call "the flesh." We still have our old sinful zombie flesh that desires to be its sinful zombie self. And so, we have to fight against that nature. To fight against that nature we need to keep getting doses of the cure. We need to return to God's word regularly so our sinful nature doesn't take over again. This struggle doesn't stop until we pass away. But that is when our life as a zombie ends.
After we die our souls go to be with God. Then, on the last day our bodies are resurrected by God. And God will not resurrect zombies. He is going to resurrect us and restore us to our full human state. We will be resurrected the way God intended humanity to be all the way back at the garden of Eden, created in his image glorious and beautiful.
Until that day, my zombie brothers and sisters, keep fighting against your zombie nature. Come and keep getting doses of the cure, Jesus. That cure is only found in God's word.
Read more...
---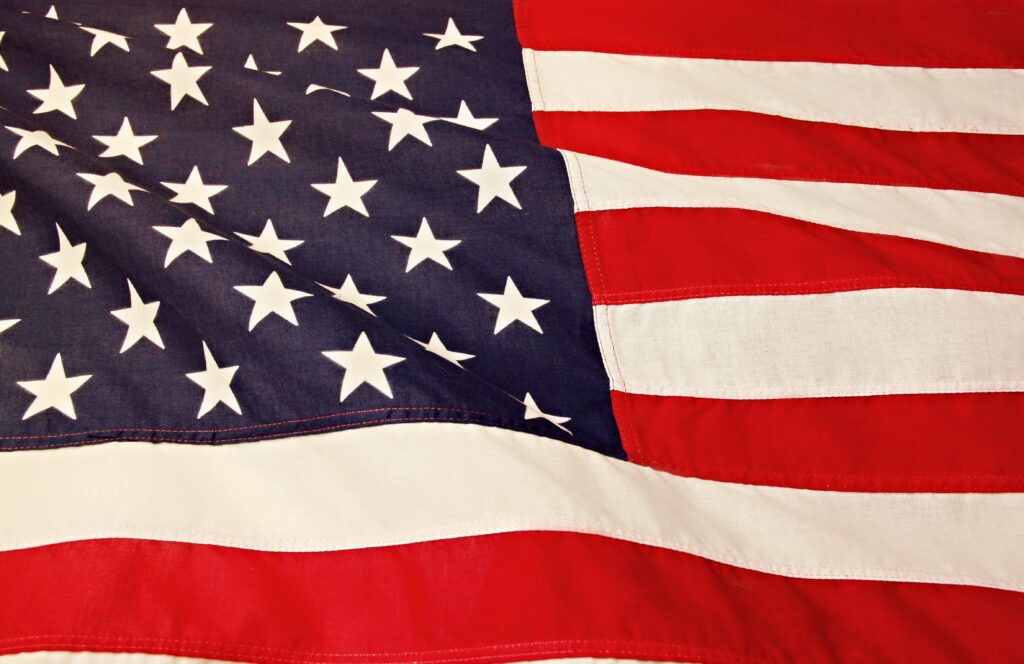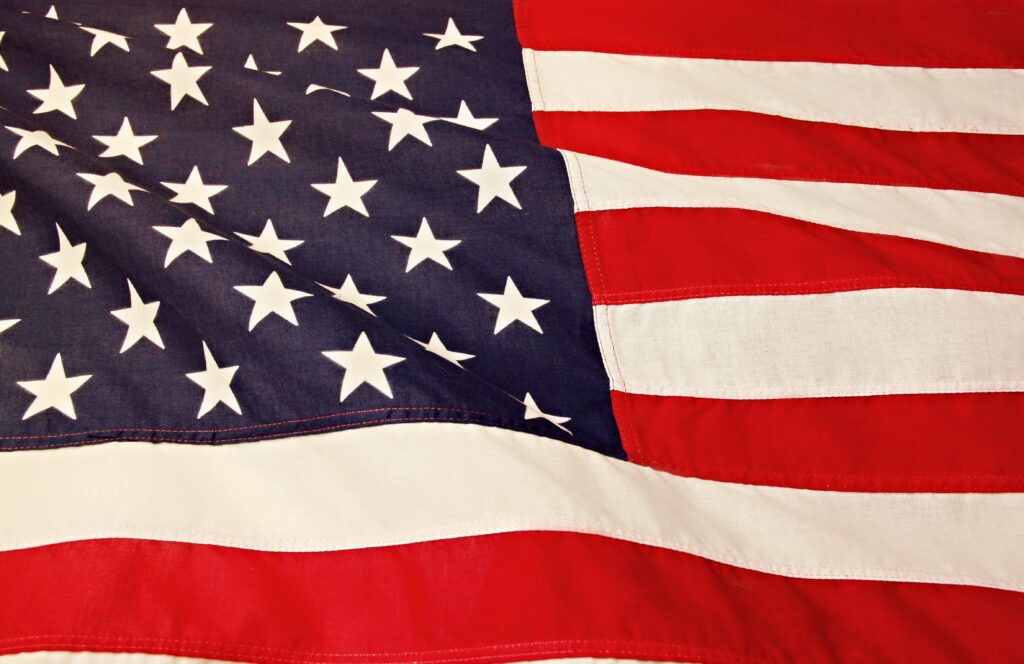 Americans demand their rights, but Christians yield their rights.
We are guaranteed certain rights under the Constitution like the freedom of speech, the freedom of religion, and the freedom to assemble. In the Declaration of Independence, the founding fathers declared that we have certain unalienable rights such as life, liberty, and the pursuit of happiness. The thirteen colonies felt they were justified in rebelling against the British government because, in their view, these rights were being trampled upon and taken away.
Still to this day, we Americans like to talk about our rights. We like to exercise those rights and we demand those rights. And we still have this sense that it is right to rebel if our rights are being taken away and trampled upon. This spirit of demanding our rights has prevented the U.S. government from becoming too controlling. And I will be the first to admit that I am glad I live in a country where certain freedoms and rights are guaranteed. It is the freedom of religion and the freedom of speech that allows me to publish this content on Facebook!
However, as Christians, we have to be careful that this spirit of demanding our rights doesn't creep into our individual outlook and our interactions with our neighbor. Because after all, we are followers of Christ first; we are Americans second. And Christians don't demand their rights; they yield their rights.
Let me prove that point with a few Scripture passages.
Romans 12:10 – "Honor one another above yourselves."
Romans 12:17 – "Be careful to do what is right in the eyes of everyone."
Ephesians 5:21 – "Submit to one another out of reverence for Christ."
All of these passages encourage us to consider others before we consider ourselves. And that includes honoring and submitting to others rather than demanding our rights. The apostle Paul provides an excellent example of how this is carried out in daily life. He wrote to the Corinthians:
Though I am free and belong to no one, I have made myself a slave to everyone, to win as many as possible. To the Jews I became like a Jew, to win the Jews. To those under the law I became like one under the law (though I myself am not under the law), so as to win those under the law. To those not having the law I became like one not having the law (though I am not free from God's law but am under Christ's law), so as to win those not having the law. To the weak I became weak, to win the weak. I have become all things to all people so that by all possible means I might save some. I do all this for the sake of the gospel, that I may share in its blessings. – 1 Cor. 19-23
In that section the apostle Paul talks about yielding his rights for the sake of sharing the gospel with others. When he was around Jews, he became like a Jew. That means he would do things like not eat pork, refrain from working on the Sabbath, and offer sacrifices at the Temple. Paul had every right to eat pork, work on Saturdays and abandon the Old Testament sacrificial practices. But when he was around Jews, he yielded his rights so that he could "win the Jews" and "possibly save some." He yielded his rights so that the Jews would be comfortable around him and so that he could share the gospel with them. On the other hand, when he was around "those not having the Law" (aka Gentiles) he became like one not having the law. So, when he was with Gentiles he felt free to eat pork, work on Saturdays, and refrain from offering sacrifices. Paul's example shows that Christians do not demand their rights and throw their freedoms in the face of others. Rather we put others first and yield the rights and freedoms we have if it will help us share Christ with someone else.
For example, If I was trying to share Jesus with a group of Muslim people, I might refrain from drinking alcohol. I have every right to drink alcohol – it is not a sin. But in the Muslim religion drinking alcohol is forbidden. So, if I insisted on drinking alcohol while I was with Muslims I would probably offend them. And that offence would become a hindrance in sharing the gospel with them. In order to show I love them and make them feel comfortable, I would refrain from drinking alcohol. Christians yield their rights for the sake of the gospel.
Ultimately, we have this yielding spirit because it is the same spirit Christ had. Jesus did not win us salvation by a show of force, by rebelling against the authority, and demanding freedom from sin. No, he won us salvation by yielding all his rights. Let's look at three rights we hold deer that Jesus gave up to save us: life, liberty, and the pursuit of happiness.
When Jesus came to this earth he yielded his right to pursue happiness. His mission on earth was not to win himself an enjoyable life. Rather his mission was to live perfectly keeping all God's laws so that he could give that perfect life to you and me.
When Jesus was on this earth, he gave up his right to liberty. Although he could have called down legions of angels to defend him when the soldiers came to arrest him, he allowed himself to be unjustly arrested. He yielded his right to liberty.
Then he yielded his right to his body and his dignity. He allowed himself to be insulted, spat upon, and stripped naked. He allowed himself to be beaten multiple times. He gave up his right to justice and a fair trial, saying nothing when they brought false accusations against him. And finally, he gave up his right to life. He gave it up by allowing them to crucify him.
Jesus yielded all these rights so he could save you and me. He did it so that God the Father would yield his right to wrath and justice – and instead say, "Your sins are forgiven."
Americans like to demand their rights. But we are Christians first, Americans second. Christ yielded his rights, and so do we.
Read more...
---