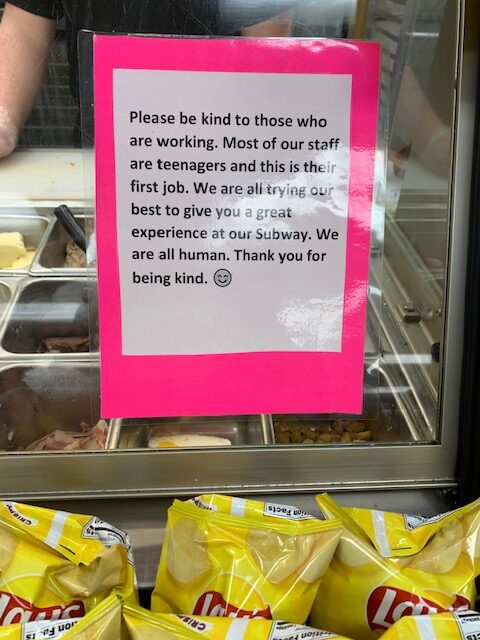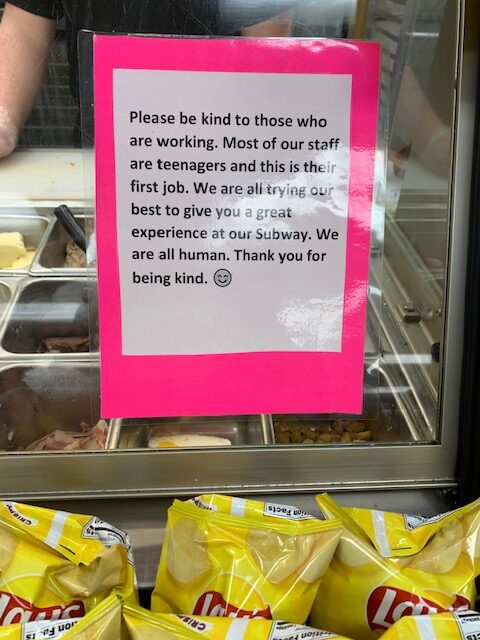 Last week I had a short time between meetings in the evening and quickly ran to Subway to get
some dinner. As I was standing in line I saw this sign. One of my first jobs in high school was
working at a sandwich shop so I didn't have to imagine what kind of behavior had prompted
Subway to put this sign up. I remember getting someone's order wrong and being yelled at by a
customer because of it.
This sign reminded me of a verse from Philippians, "Let your gentleness be evident to all" –
Philippians 4:5. The word all is very significant. We are not supposed to let our gentleness be
evident only to our family, not only to those we like, not only to those who are of a higher
status than us. We are supposed to let our gentleness be evident to all.
You see, our Christianity is not something we only practice on Sundays. Our faith in Jesus is
something that affects every aspect of our lives. We are called Christians because we are
followers of Christ. That means if we call ourselves Christians we are representing Christ in
every interaction of our lives. And Christ would have us be gentle with others. Even toward the
teenager who got your sandwich order wrong at Subway.
Sadly, we all have failed to let our gentleness be evident to all. We have gotten short and
snapped at our family. We have said unkind words to customer service representatives.
Perhaps in our driving we have let our road rage be evident to all rather than our gentleness.
And that is why our Savior came on Christmas. God became one of us on Christmas day. He
became one of us so that just as his mother wrapped him gently in her arms, he too could wrap
us gently in a hug and say, "I forgive you." I forgive you for all the times you have been harsh
with your neighbor. I am gentle with you. Now go and show that gentleness to others.
It is easy to lose patience in the hustle and bustle of preparing for Christmas. So remember the
gentleness of Christ. He was gentle with you, forgiving you of your sins. Therefore, let your
gentleness be evident to all.
Read more...
---